Innovation in the legal and accounting professions in Europe.
A new study highlights the professions undergoing radical change.
The Editions Lefebvre Sarrut Group has revealed the initial findings of its European study on innovation in the legal, fiscal and accounting professions that saw the group interview 1,500 professionals in five countries.
Paris, 28th November 2018. The initial findings of the European Lefebvre Sarrut study on innovation in the legal, fiscal and accounting sectors were unveiled today at Paris's Village de la Legaltech, representing the culmination of significant research into the factors that have driven change, trends and attitudes towards innovation, and changes to the average professional profile in these sectors.
The study compared the situations in France, Spain, Belgium, Luxembourg and the Netherlands through a series of 1,500 online interviews and 50 qualitative interviews with experts who shared their respective analyses of the current situation and how innovation had impacted their roles. These interviews looked at innovation in the roles of 400,000 professionals, including lawyers, public accountants and tax experts, notaries and company legal and HR departments.
The lawyer's perspective: major trends and perceived barriers
The study revealed that the main drivers of change observed were the increasingly international scope of operations, new professional profiles, legislative changes and the arrival of new players in the digital transformation, such as legaltech companies and GAFA.
54% of lawyers in France believed innovation to be important, but only 24% planned to introduce an innovation strategy complete with action plan and separate budget, in most cases less than €20k. Our neighbours, however, would appear to be somewhat more receptive to innovation, with 75% of Spanish, 80% of Belgian and 97% of Dutch lawyers believing innovation to be important or essential.
Fewer than 4% of French legal firms were investing over €100k in innovating in France, whilst 29% of lawyers in the Netherlands were investing €100k or more in innovation.
The main obstacles to the implementation of the most innovative trends among lawyers were the perceived high cost and the absence of skilled personnel or an appointed individual to 'manage' innovation.
Lawyers prioritised technological developments and were starting to acquire technically mature tools such as extranets that provided easier access to their records and customer relationship management (CRM) software that allowed them to interact more effectively with their clients. Very few had yet started to experiment with those new technologies that represent the greatest added value, including big data for analysing legal documents en masse, such as warrants produced in the framework of company acquisitions, for example, smart contracts, chatbots and algorithms, among other things.
The changing role of the lawyer
The role of the lawyer is moving away from that of a supplier of legal services to that of a strategic partner where their clients are concerned. Indeed, some legal firms are already viewed as valuable business partners and have modified their service offerings to reflect these expectations.
The growing complexity of the situation requires them to move away from the current legal firm model to operate more like a team of multidisciplinary professionals, and the digital transformation is forcing them not only to use more technology but also to adopt a more technological way of working with regards to interactivity, collaboration, multifunctionality and networks.
Company legal and HR departments are becoming less like 'support functions' and more like 'business partners'.
Legal and HR departments within companies are also changing, with technology now making it possible to automate various repetitive tasks, meaning that the emphasis can once again be placed on the human aspect. The 'legal design' approach is designed to make their documents easily accessible and understandable,
particularly since these departments are also bound by productivity constraints, on the one hand, and new requirements regarding good governance, risk management and compliance, on the other. They will have found themselves faced with a procession of tools to choose from when it came to GDPR compliance, and some are, in fact, already starting to adopt and invest in these.
Teams are also becoming more collaborative as individual talents are given the opportunity to bring their own expertise to the table as part of a multidisciplinary group, whilst innovation in the field of working methods will naturally result in new demands where their external consultants are concerned.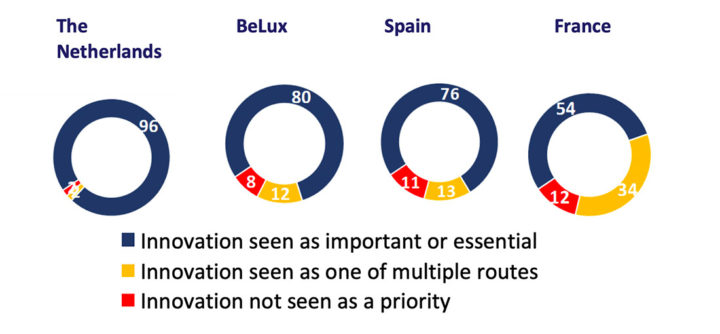 About the Editions Lefebvre Sarrut Group
The Editions Lefebvre Sarrut Group is a leading European player in the knowledge economy and has long established itself as a trustworthy partner in the legal, fiscal and regulatory markets. The group offers documentary solutions and training services designed to improve its clients' professional efficiency.
For more information about the Editions Lefebvre Sarrut Group please visit lefebvre-sarrut.eu.