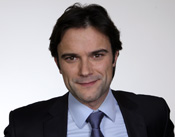 Thomas Sarazain
Directeur des Ressources Humaines ELS / Group HR Director
Rejoindre ELS, c'est construire votre avenir

 

 

Opportunity : un Graduate Program à la hauteur de vos ambitions 

 

 

Notre politique de mobilité s'inscrit dans le développement et l'évolution de notre Groupe.

 

La mobilité constitue l'enjeu majeur d'une politique de ressources humaines dont nous sommes tous acteurs. Notre volonté est de permettre à chacun d'évoluer et de progresser au sein de son métier, des différents services ou entités de notre Groupe.

 

 

To join ELS is to build your future

 

 

Opportunity : a Graduate Program that matches your ambition 

 

 

Our staff mobility policy is an essential part of the Group's development and evolution. 

 

Staff mobility is a key challenge of a human resources policy of which we are all actors. Our wish is to enable each one to advance and progress in his profession, in various departments or in different entities of the Group.