To support companies tackling upcoming ESG/CSR obligations, Lefebvre Sarrut lands digital hubs in 6 countries across Europe
News release
Paris, 11 July 2023
Lefebvre Sarrut Group, European leader in legal and tax knowledge, lands digital hubs in 6 countries across Europe by providing contents curated locally in order to be more respondent to needs and insights of local markets.
Managing company business responsibly, taking into account the impacts on the planet, employees and the community, structuring steady and reliable governance processes. In a nutshell, this is what thousands of European businesses and professionals are asked for in order to comply to the new European Union ESG standards, starting in 2024, issued in the Corporate Sustainability Reporting Directive (CSRD).
Regulatory scenario is broad and implies correct full filment of all sorts of new activities involving different internal departments and often external support from consultants while companies do not seem yet prepared to face effectively this transition to a sustainable business approach as a recent european research conducted by the Group states (see attachment for research highlights). This is why Lefebvre Sarrut, European leader in legal and tax knowledge, took it upon itself to provide companies and consultants with online hubs offering primary sources, training material, updates and focus on all ESG related key topics in order to help them understand and be compliant with new extra financial reporting regulations.
Our ESG hubs in Europe:
The ESG Hubs provide editorial publications and one stop digital solutions including guidance and reporting tools to simplify and optimize the different phases of extra financial reporting. A European approach for a European scale regulatory framework that will involve, in the short term, about 50,000 companies.
The timeline of CSRD: regulation milestones and progressive application to European companies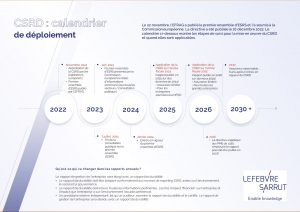 According to Camille SZTEJNHORN, Impact Director: "Lefebvre Sarrut's central ESG Hub along with the local ones developed in each country are a tangible response to the needs of knowledge and guidance among our clients but also proof of our mission to enable knowledge for a fairer more efficient and sustainable society. By helping our clients in this journey to sustainability we are also promoting the foundations of a more ethical and virtuous approach to business. And let's not forget that compliance to this new regulatory framework will be opportunity of business growth for companies willing to stay open to this challenge."
About Lefebvre Sarrut
Lefebvre Sarrut is the European leader in legal and tax knowledge. With offices in France (Lefebvre Dalloz), Germany (Juris/Stollfuß), Italy (Giuffrè Francis Lefebvre), the Netherlands (SDU), Spain (Lefebvre) and Belgium, Luxembourg and the United Kingdom (Larcier-Intersentia), the group provides publishing, training and software solutions to a wide range of organisations in the private and public sectors (CHRO, CFO, CLOs, CCOS…) and to regulated professions (notaries, chartered accountants, lawyers, etc.). Lefebvre Sarrut generated revenues of €542 million in 2022 and employs 2,500 people. The group's mission is to enable knowledge for a fairer, more efficient and sustainable society. www.lefebvre-sarrut.eu
Press contact : Brice CHAUVEAU – b.chauveau@lefebvre-dalloz.fr – +33 7 86 64 88 28